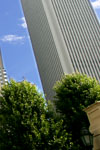 Employment Opportunities

Because of Kurt's contacts with highly successful people and companies, he sometimes becomes aware of "once in a lifetime" opportunities. Successful people make successful companies and because Kurt coaches, trains and mentors these individuals, he sees where people could link up, network, and do each other good.
We recommend the following headhunting or executive search firm:

Extreme Solutions
This is a small boutique firm that gives both the candidate and company a high degree of personal attention. They treat you like the valuable person that your are.


Extreme Solutions--Candidates
This link has a lot of valuable resources for the candidates that are in career transition and want to find better positions.


Extreme Solutions--Companies
Companies should use this link. Extremely Good People For Extremely Good Companies. That about says it all. Extreme Solutions finds candidates through peers that recommend them. Better candidates from peer referral rather than from résumé job sites. You get better candidates.

Contact Us to Send Your Resume

More Links:



Contact us for help and product info



Find FREE success tools on this site



Invest in the success book that everyone is talking about.



Sign up for the FREE weekly e-zine



Get a Personal Coach or Mentor



Site Map